Cycling Tour - View Prices and Schedule
Normandy Cycling Tour

The D-Day Experience
On June 6th 1944 135,000 men came ashore on the beaches of Normandy, their fortitude and courage proved to be a turning point in the Second World War.
Join us as we experience the D-Day landing beaches and marvel at the planning, the bravery and the determination of the men who took part in this incredible enterprise. Cycling along quiet country roads, through rolling countryside, the coast is never far away with spectacular views and quiet seaside resorts.
Tours last for 4, 5 or 6 days. We cycle at your pace enabling you to enjoy a detailed and leisurely examination of these momentous events.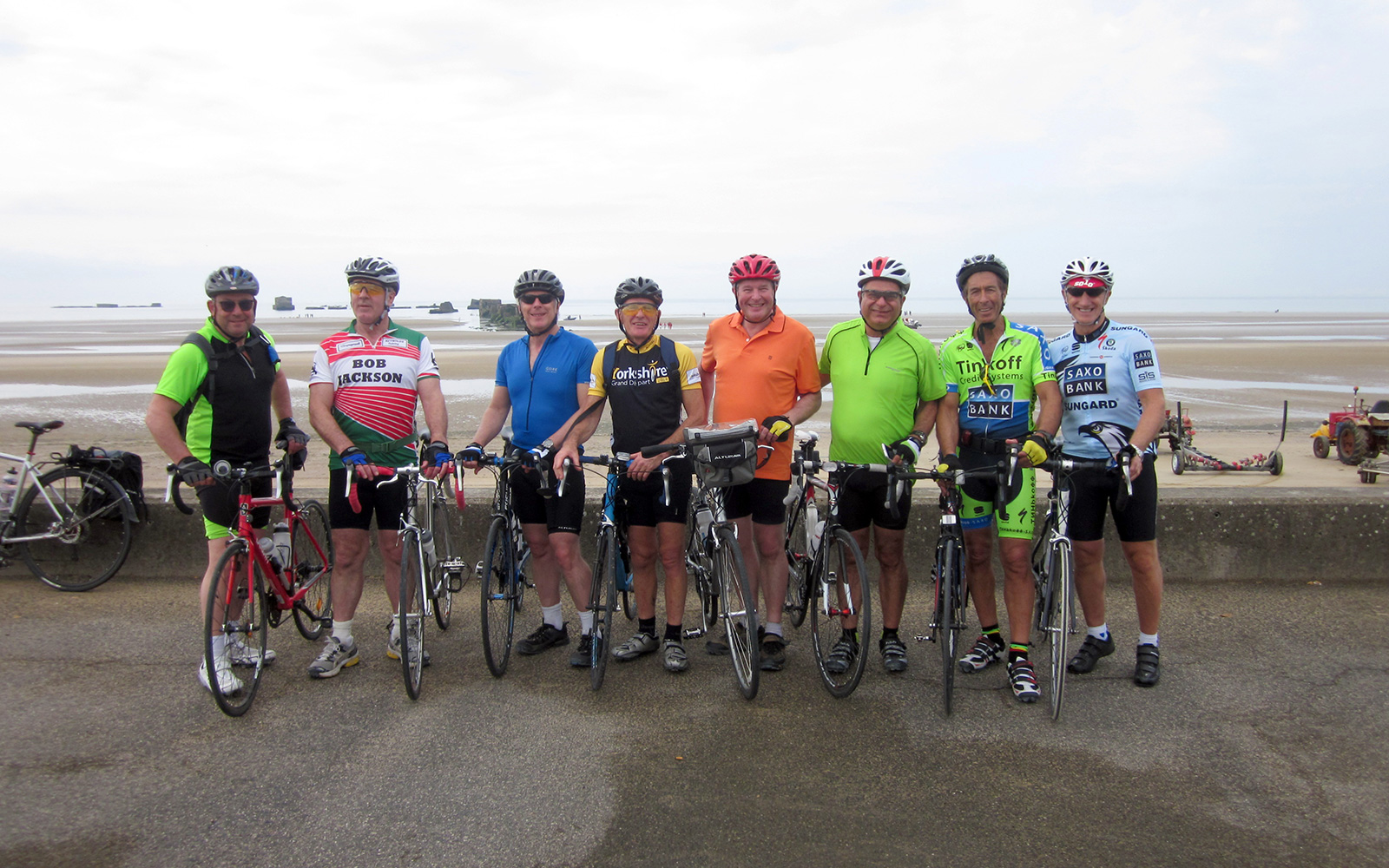 Bespoke Battlefield Tours
Because everyone is different we prefer the tailor-made approach to our battlefield tours. Whether travelling as individuals, members of a small or a large group, travel at your own pace to explore the sites included in our itineraries and those of your own choosing.
Remember, each holiday is bespoke. Anything is possible!
Get in touch with us today to discuss your bespoke tour requirements.
Excellent Value
Our cycling holidays generally include the following;
Bed and breakfast accommodation in 3 and 4-star hotels.
Luggage and equipment transfers.
The services of a battlefield guide throughout your visit.
Entry to museums
Bike hire.
Sample Tour Itinerary
Day 1
Meet at Portsmouth ferry terminal for early morning crossing.
Arrive Ouistreham early afternoon.
Check in to hotel.
Unload and check bikes or pick up hire bikes.
Cycle along the canal towpath to Pegasus Bridge and Ranville, the scene of airborne landings on the morning of June 6th. We see where the Horsa gliders lanede, visit the Café Gondree, the first house to be liberated in occupied France, and cycle on to Ranville to visit the graves of the Airborne troops who fell on D Day and in the following days.
Day 2
Following cycle paths and country lanes along the coast to explore Sword and Juno beaches, we discover the remains of beach defences and fortified structures. We will also take the opportunity to cycle a short distance inland to visit the Hillman Bunker, to discover the impact of this site on the progress of the Allied invasion.
Overnight in Bayeux.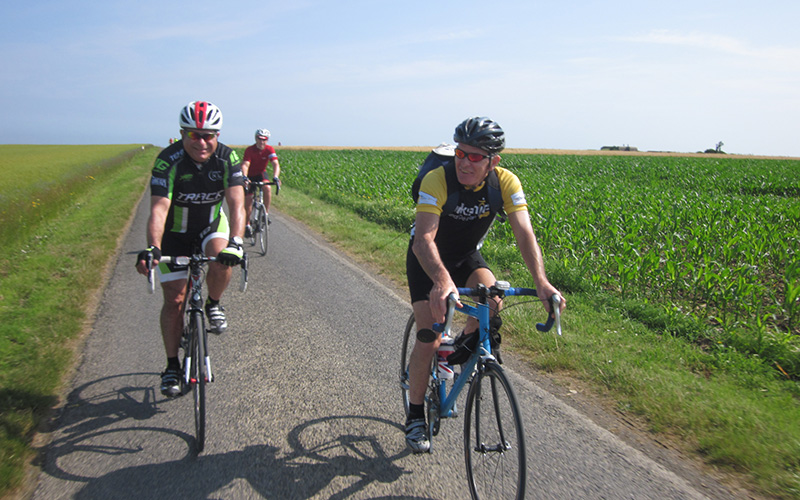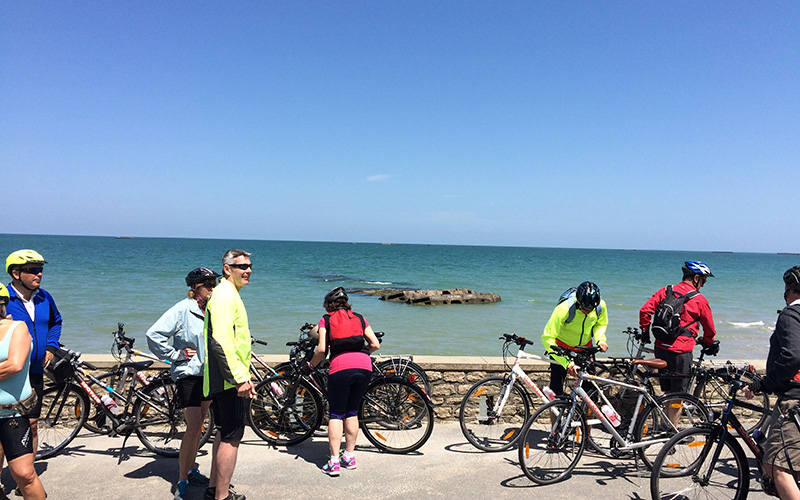 Day 3
The day starts with a visit to the cemetery in Bayeux. We then cycle out along quiet country lanes to Asnelles, where the British suffered some of their heaviest casualties. From here it is a short cycle to the Mulberry Harbour at Arromanches. After lunch we then cycle along the coast road to Longues sur Mer to view one of the best preserved sections of the Atlantic Wall. An opportunity to explore Bayeux later in the day.
Day 4
Back to the coast road but this time heading towards the American beach at Omaha, stopping en route in the small fishing town of Port en Bessin. We will pay a visit to the impressive American cemetery at Coleville sur Mer, discover the beach defences at Vierville and retrace the steps of the Rangers at Pointe du Hoc.
From here we cycle on to Carentan for our overnight stay.
Day 5
From Carentan we again head towards the coast and the wild and quiet of Utah beach. Following in the footsteps of easy Company, 506th Parachute Infantry Regiment (made famous in Band of Brothers), we visit the formidable German defences at Azeville and then head for Cherbourg. Overnight in Cherbourg.
Day 6
Time to have a look around Cherbourg before our return to Ousitreham by local train service and then an early afternoon crossing to Portsmouth.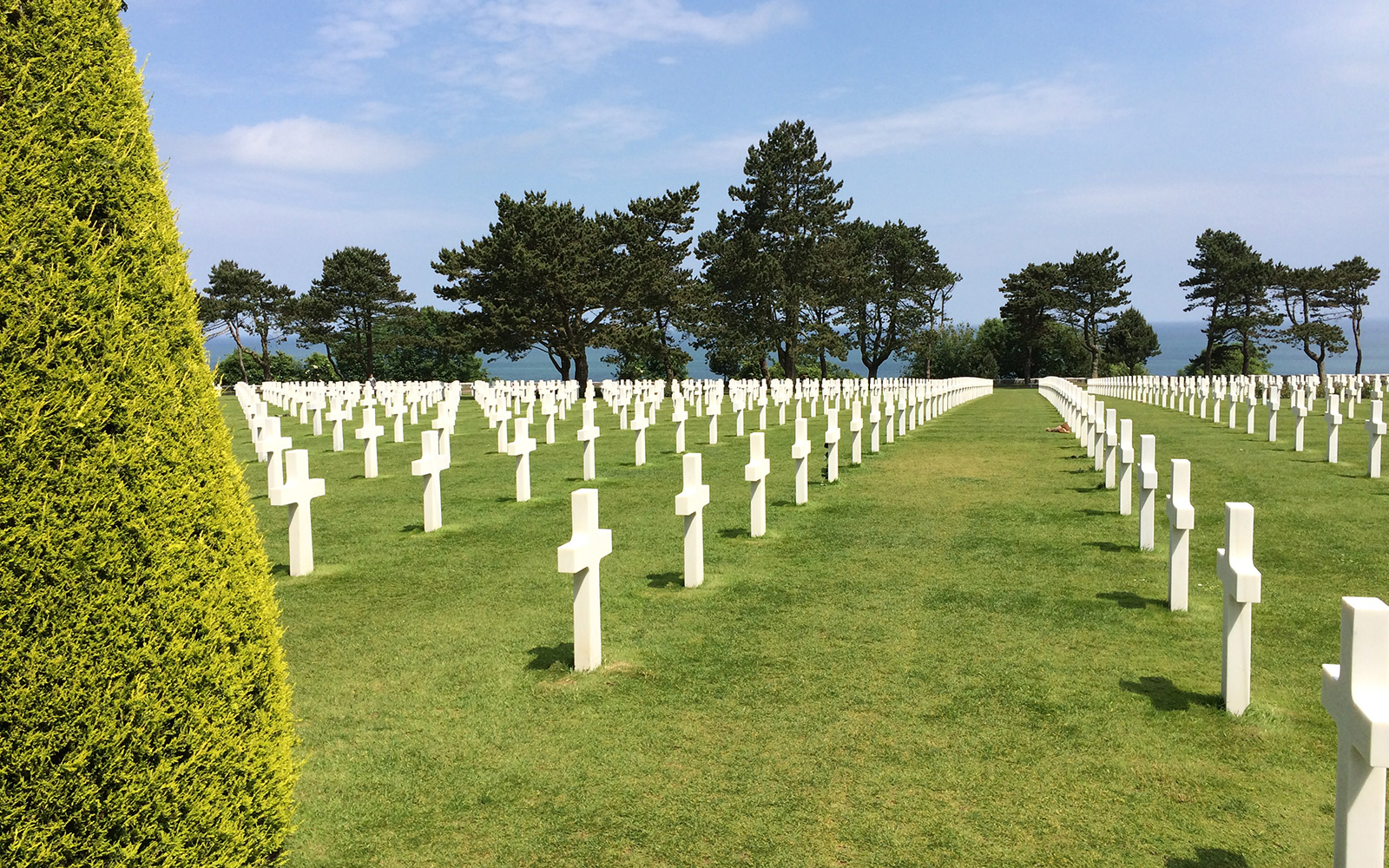 Accommodation
If you wish us to book accommodation, a wide range is available. The area has numerous 3 and 4-star hotels. Many clients opt to book on a bed and breakfast basis. There are plenty of restaurants in Ouistreham, Bayeux, Carentan and Cherbourg. We will be on hand to advise you of the best places to eat in any case.
Travel Arrangements
If you would like us to make travel arrangements for you our tours typically start and finish at Portsmouth Ferry Terminal.
Outward Journey:
Tours depart from Portsmouth Cross Channel Ferry Terminal. If you intend to travel to Portsmouth by car there is ample car parking at the terminal.
Return Journey:
We will return to the UK via the ferry from Ouistreham. The tour finishes at Portsmouth Ferry Terminal.
Tour Gallery